From Bell-Horn | Item #: Bel-206 XS, S, M,L,XL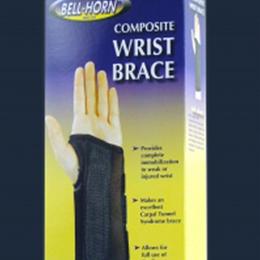 Provides immobilization for weak or injured wrists. Removable palmar stay and two medial/lateral stays provide maximim support and immobilization. Loop lock closures and elastic insert assure proper fit and easy one hand application. View more
Provides immobilization for weak or injured wrists. Removable palmar stay and two medial/lateral stays provide maximum support and immobilization. Ideal for sprains, strains, or after cast removal.
Loop lock closures and elastic insert assure proper fit and easy one hand application.
Made of a cool and breathable material.
Low contour at palmar crease allows for full finger dexterity and improved grip strength.
Wrist 4.5 to 5.5 XS; 5.5 to 6.5 S; 6.5 to 7.5 M; 7.5 to 8.5 L; 8.5 to 9.5 XL